Our perception of truth is particularly fallible when it comes to other people.
By Douglas Board
I grew up with a rock-solid grasp of the difference between reality and fiction: rock-solid but wrong. Reality was stony-faced, wounding and compulsory: a cross-country run in winter rain, the humiliating impossibility of catching leather balls or mastering Mandarin pronunciation. Mostly reality went on and on, unchanging, for example the grinding calendar of scholastic production – lessons and examinations. Sometimes it was fickle. Either way, it was unyielding.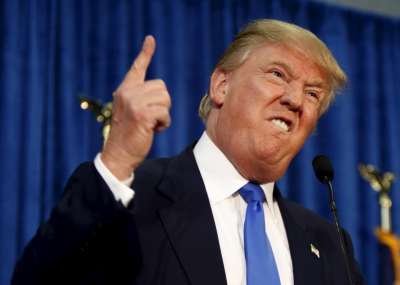 Growing up, fiction was the opposite. Whether it was Jules Verne or
Hawaii Five-0,
fiction was escape; temporary, of course, but any break-out from the vertical and horizontal bars of a calendar had to be that. After all, time was reality (stony-faced, wounding and compulsory).
I grew up in a modern version of Plato's cave. We youngsters strapped lamps of reason to our foreheads as we hacked at the shadows of knowledge on the wall. Producing ragged piles of inconsequential facts determined our grades: the capital of Colombia, the square root of two and the practice of transhumance.
Fiction offered escape. I dropped the flashlight of reason to grab the lantern of dreams – the dreams of Agatha Christie, Alistair Maclean and Douglas Adams. Their lanterns bathed the cave's walls in kaleidoscopic color. Better yet, the lanterns had wings. The joy of exiting the cave like a bat out of hell! (a late adolescent discovery: music could also be an escape. Ditto various substances.)
In fact what the cave produced was millions of knowledge-workers: smart-arses whose shiny rational prowess was soon deployed to produce not piles of facts, but money. I inhaled cave air thick with duty and self-importance. Above all, I knew the cave was real, and home. Escapist fiction was charming, but merely demonstrated the impossibility of living outside.
Discovering the many wrongs baked into this view of reality and imagination took decades: I didn't try to write fiction seriously until I was 50. Here's wrong number one.
The cave allegory hangs on light and seeing. However, human eyes are not pinhole cameras but reality constructors with extensive mental processing. We never 'see' the boundaries of our blind spots because mental processing fills the spots in with what we 'know' is there.
In fact, if we can't imagine something, we probably won't 'see' it even when it's front of our nose. A famous experiment in psychology shows observers of a basketball game failing to see a gorilla walk across the court. To take another example, Einstein's imagination had to work overtime before astronomers could 'see' what space-time looked like.
Audrey Niffenegger is a professor of creative writing, not physics. When she picked up her dream lantern and conceived The Time Traveler's Wife, she flew her readers out of the cave to somewhere astonishing. Millions flexed their imaginative muscles. We left today's shackles behind but returned able to see more than we could before. Douglas Adams did that for me, but Agatha Christie didn't. I didn't grasp the difference at the time.
Our perception is particularly fallible when it comes to other people. Once we have arrived at a view, often in seconds, we stop noticing attentively: we've decided that we 'know'. When the other person is as polarizing as Donald Trump, the effect is multiplied. Like the basketball spectators, we can't tear our eyes off him, but still we could easily miss gorillas.
So a contribution which fiction can offer is to introduce a character – in my novelette 'The Rats' someone a bit weird on the fringes of Scottish business – whose unfamiliarity makes us notice afresh. Our reactions remain subjective, but more than mindless repetition from social or news media. Then, soberly, we can compare the fictional character with the occupant of the White House.
But the cave lets us go farther. For me the deepest Trumpian riddle is: how could it conceivably make sense to vote for a fool and a
charlatan
, knowing him to be both? (Many Trump supporters see someone heroic; their votes pose no mystery.) 'Conceivably' is a clue that the first challenge is to our imagination.
My cave is a disagreeable dream. Suppose for a minute that the dream captures some truth. The process starts, as in Pink Floyd's The Wall, with the scholastic force-feeding of rationality. Working life after school is even more stony-faced, wounding and compulsory. Each blank square between the horizontal and vertical bars of the calendar becomes another day for mining. It's a story about imprisoning ourselves, because the cave's only guards are the ideas in our heads.
The way this dream tells it, the role of the smart and the intellectually credentialed is key. As miners, they reap most of the rewards. As thinkers and teachers, they hammer home the imprisoning ideas (into themselves, as well as others). They lap up money and prestige but are no less trapped than those cast onto the intellectual scrapheap. As for the dreamers, they may be part of the problem – it depends what they do with their lanterns.
This is a picture of carnage. To escape, why not a leader who lifts high the lantern of his crazy dreams and pulls faces at the lights of rationality? Why not an egotistical charlatan, if your other choices are miners?
SpaceX entrepreneur says he offered a "free space ride" to the president, and he took it. "He's Starman now, and he's in the driver's seat, the way he likes it."
SpaceX and Tesla Motors founder
Elon Musk
shocked the world yesterday, not only with the spectacular rocket launch, but later with the news that the "Starman" sitting in his Tesla Roadster in space right now is actually President Donald Trump.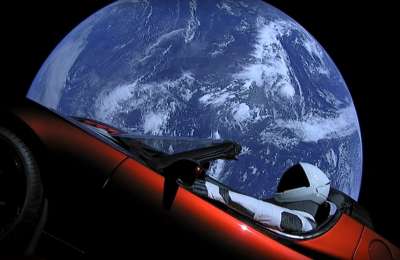 The White House fervently denied it, until they realized no one had seen the president since the launch.
"I just thought it would be a nice gesture," said Musk, "so I offered him a 'free space ride,' as kind of a joke. I didn't think he'd take me up on it.
"I thought about telling him it would mean certain death, but then I thought, well, we could do humanity two favors at once: open a new era of space travel, and get rid of its most vexing problem."
NASA scientists say it's possible, since SpaceX had full control of placing the payload on the rocket. "We didn't inspect it or anything," said NASA spokesman Dave Blackman, "they seemed to know what they were doing. Certainly, more than we do, these days."
Logistics were a problem, Musk admitted, since the president added significantly to the payload weight.
"I'll tell you this, he's no
239 pounds
, that's for sure. But I'm going to respect his privacy and not give away his real weight," stated Mr Musk.
"I don't know why everyone is fretting so much about this. He always insisted on being in the driver's seat, no matter what he did," Musk said. "Now, he's there forever. Pretty fitting, I'd say!"
"He always promoted himself as a star here on Earth. May he rest in peace now, among the real stars."
Wherein our intrepid talk radio show host interviews White House advisor Stephen Miller
ANNOUNCER
Live from under a rock in your backyard, it's The Jerry Duncan Show.
JERRY
Good morning listeners nationwide. Is it a good morning? We'll soon find out. Today on the show my guest is Stephen Miller, White House senior advisor to the president.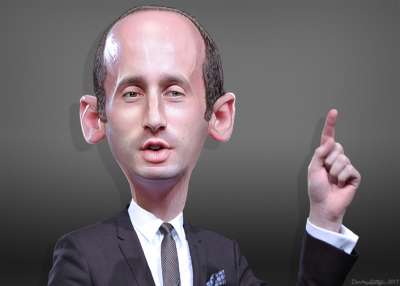 STEPHEN MILLER
JERRY
Wow, in person the most hated man in America. Are you a distant cousin of Nazi Propaganda Minister
Joseph Goebbels
?
MILLER
Is this some kind of joke?
JERRY
No. Even Harvey Weinstein thinks you're creepy. My question is who is running the Bates Motel if you are here talking to me?
MILLER
In response to those tasteless remarks, I quote the great Vice President Dan Quayle "What a waste it is to lose one's mind."
JERRY
You grew up in a liberal Democratic household. When did you change sides?
MILLER
In high school. I started riling up my classmates by telling them all the Hispanic students should be deported if they didn't start speaking English. Then I started getting offers to go on conservative talk radio shows. I told listeners that Osama bin Laden would feel welcome at Santa Monica High School.
JERRY
How did your classmates react?
MILLER
Well, there were flyers of my photo posted on all the lockers with the words "this should scare you from getting pregnant."
JERRY
When did you realize that you were never going to have friends?
MILLER
It was in preschool when no one would let me play with their toys in the sandbox. But I got even. There were clumps of cat turds underneath the sand, so I scooped them up with my hands and passed them out to every kid. The little monsters thought it was candy and ate it. I laughed my ass off as they gagged and cried.
JERRY
What happened as you got older?
MILLER
I was meaner. In high school, I dropped a childhood friend because he was Mexican American. I was against a student LGBT group and started a campaign to get rid of condoms.
JERRY
What the hell were you thinking?
MILLER
That I could be the next Archie Bunker. I have a spiritual connection to the man.
JERRY
You realize that he's a fictitious character.
MILLER
JERRY
Okay Meathead. Let's talk about your college days.
MILLER
I went to Duke University. I wanted to get away from California. One of the first things I did was write in the school newspaper that poet Maya Angelou had racial paranoia. Listen Duncan, I've read more enlightening things about African Americans on a men's room stall than her gibberish.
JERRY
You have Trump's ear. You were the reason the Trumpster changed his mind about DACA before the government shutdown.
MILLER
We think alike. That should be comforting to all Americans.
An intern interrupts the interview.
INTERN
Sorry to bother you Mr. Duncan, but Bernie Sanders is in the hallway. He's very agitated. Apparently Mr. Miller is getting on his nerves.
JERRY
Send him in, scrambled brains. I like a good fight.
(The sound of a door is heard opening and closing)
BERNIE
Thank you for allowing me to be on your show.
JERRY
Why are you here absent minded professor?
BERNIE
I was listening to your show and disgusted by the hate coming out of the mouth of this putz Stephen Miller. The way he treats immigrants, especially Hispanics is inhumane.
MILLER
Can't take the heat old man then get out of politics.
BERNIE
Look, my father was an immigrant from Poland. He didn't have a nickel when he arrived on Ellis Island in 1921.
MILLER
Then you can appreciate this joke. How do you sink a Polish battleship?
BERNIE
MILLER
BERNIE
Who wrote that crazy Sean Hannity?
MILLER
Here's another one. How do you get a one-armed Pole out of a tree?
BERNIE
MILLER
BERNIE
Where do you hear this crap?
MILLER
I make it up. I have jokes for every ethnicity. I'm an equal opportunity offender.
BERNIE
You're a spoiled brat who has a rich daddy. That's what you are. My old man sold paint for a living. Can you imagine? When he shook paint cans, his head looked like it had Parkinson's disease.
MILLER
Are you punishing me because I'm spoiled rotten?
BERNIE
No. I'm punishing you because you are rotten.
MILLER
BERNIE
Yes we were poor. So poor that if I wasn't a boy, I wouldn't have had anything to play with.
Immigrants should have a path to citizenship. And no discrimination as to who gets citizenship.
JERRY
I've been listening to you two Nobel Prize winners and have a solution. Get off my show.
MILLER
But I want to talk about my new slogan Make America Meaner for the 2020 Trump campaign.
BERNIE
Then I get to talk about my 2020 campaign slogan. BS you can trust.
JERRY
See you tomorrow everyone.